Urban Quick Stop provides a living laboratory to study the challenges of last-mile delivery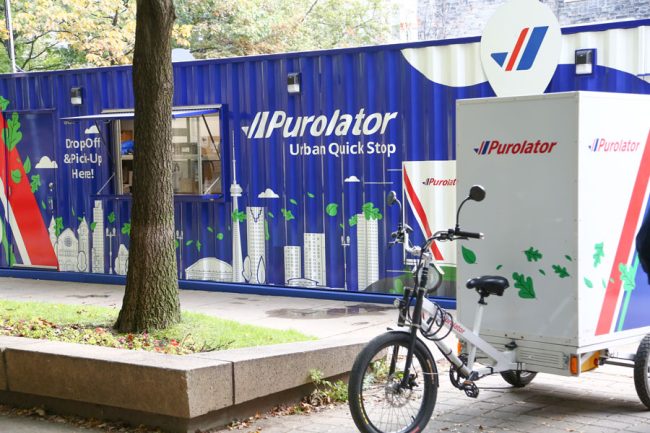 The Purolator Urban Quick Stop is the home of a new multidisciplinary collaboration between industry, academia and government that aims to explore innovative solutions to the challenges of last-mile delivery. (Photo: Tyler Irving, U of T Engineering)
By Tyler Irving, U of T Engineering News, October 13, 2022
A partnership between U of T Engineering, Purolator and the City of Toronto has resulted in a new installation on campus: the Urban Quick Stop. The pilot project offers researchers such as Professor Matthew Roorda (CivMin) an innovative way to study the challenges of last-mile delivery. 
"As online shopping has become more common, the pressure on all forms of package delivery has increased," said Roorda. "At the same time, new modes of transport are becoming available, including some that offer benefits such as lower emissions. This new project is a great opportunity to gather the detailed data we need to quantify their benefits."
Roorda serves as Chair, Scientific Advisory Committee for the Smart Freight Centre, a collaborative research hub focused on improving the movement of goods across the Toronto Region. Launched in 2019 with support from the Dean's Strategic Fund, the Smart Freight Centre includes members from several universities, as well as from government and industry.
The Purolator Urban Quick Stop is built inside a standard 40-foot shipping container. It arrived on U of T's St. George Campus earlier this fall, fitting neatly into a parking space provided by the City of Toronto. It is the second Urban Quick Stop to open in Toronto, following an earlier installation on Spadina Road.
One of its functions is to act as a convenient hub for customers who live or work near campus to drop off or pick up their deliveries; in fact U of T students are being offered a 50% discount on shipments sent to or from the new hub.
But the Urban Quick Stop can also facilitate door-to-door deliveries via the use of specialized delivery e-bikes. These three-wheeled vehicles replace larger traditional delivery trucks for the critical last few kilometres of a delivery journey. They offer many potential benefits: for example, they take up less room on the street, are easier to park and produce no harmful emissions.
Packages arrive at the Urban Quick Stop once per day, where they are either held for the recipient or loaded onto the e-bikes. Deliveries are then completed using the dedicated bike lanes on nearby roads.
"Our partnerships with universities and municipalities have helped us make tremendous progress against our research and development initiatives," said Ricardo Costa, Purolator's Senior Vice President and Chief Technology Officer.
"We've been able to respond to the increase in challenges of urban delivery and heightened focus on sustainability through more efficient network designs and electric vehicles. Now, working with the University of Toronto and the City of Toronto, we can further reduce traffic congestion, deliver more efficiently and eliminate the need for parking our trucks in Toronto."
"This Urban Quick Stop not only offers nimble pick up and drop services, but also gives us the insights we need in developing sustainable last-mile delivery options in dense urban areas," said Barbara Gray, general manager, Transportation Services for the City of Toronto.
"Coupled with other work the City is doing to improve shipping and goods movement, this innovative pilot will make deliveries greener, faster and cheaper."
Professor Roorda and his team plan to conduct an extensive analysis of the impact of the pilot project using data collected in a variety of ways.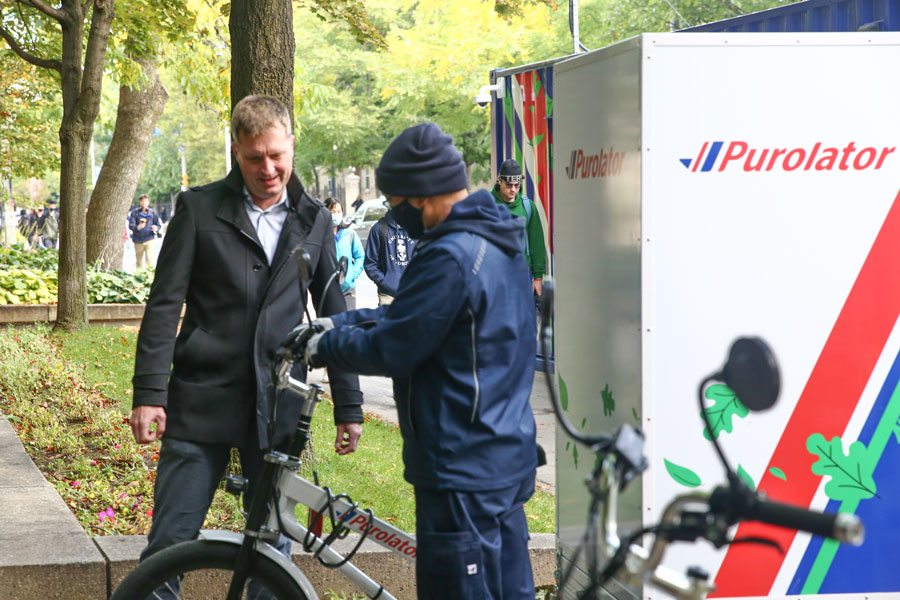 For example, the Urban Quick stop will be outfitted with AI-enabled traffic cameras provided by Bosch, which will assess the impact on traffic congestion. To look at the climate impact, the team will use emissions sensors provided by Geotab, which will be attached to the e-bikes.
"This really is a living laboratory," said Roorda. "As we gather the data and observe how the new system operates, I think we'll gain some really valuable insights that will facilitate further innovation in more sustainable and efficient freight transportation across the region."
The Smart Freight Centre launched in 2019, and is supported in part by the Dean's Strategic Fund, Faculty of Applied Science & Engineering.
This story by Tyler Irving is re-posted from U of T Engineering News, October 13, 2022.